Registration for Returning Students
Registration will be performed online:
To register your returning student for the 2022-23 school year, online registration will be available starting Monday, March 14, 2022, through April 12, 2022. You may sign into your Infosnap account during this period, using the snapcode provided by our district for the 2022-23 school year, and complete the process.
Payment for school fees will not be asked during the registration process. 2022-23 School Fees are to be paid using the Parent Portal which will be available for payment after August 1, 2022.
Residency verification will be completed for all returning students using our online tool, the CLEAR Batch Residency system. If proof of residency can not be verified with this method, you will be contacted by your school and asked to provide appropriate proof of residency documents. Students will not be provided with a snapcode, and will not be able to begin the 2022-23 school year registration until residency has been verified by the district.
Students must be registered no later than Wednesday, August 10, 2022, to attend the first day of school (August 17, 2022)
Listed below are the School Supply Lists for the 2021-22 school year.
Misc. Documents, Forms and Resources
Proof of Residency Documents
If you've been asked to prove residency, you will need to provide:
One (1) document from Category 1

Two (2) documents from Category 2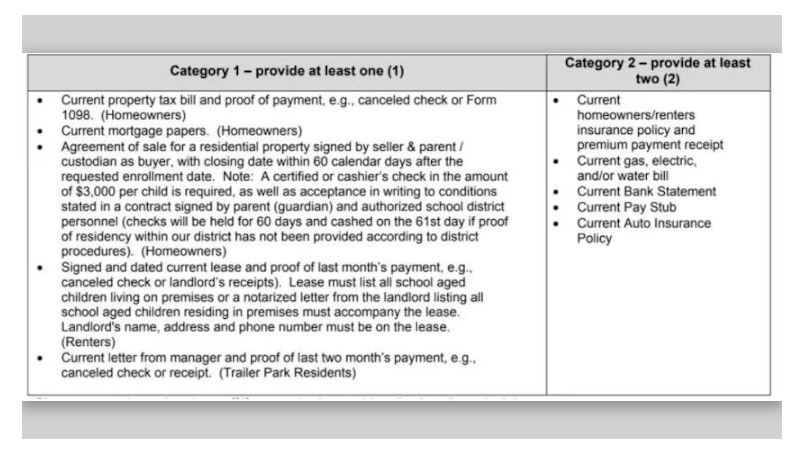 If the student is living with a District Resident, the District Resident must provide the documents requested above, along with an Affidavit (click here) confirming the student and parent(s)/legal guardian(s) reside at their place of residency. In addition, the parent (s)/legal guardian(s) living with the District Resident must provide TWO (2) current Category 2 documents in their name, mailed to the address of the District Resident.
Phone: 847-596-5888
Email: registration@bpd3.org
For In-Person Assistance, please call 847-596-5888 to make an appointment, or click here to schedule your appointment.