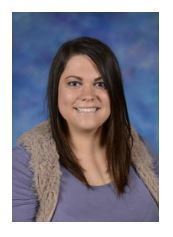 It is with great excitement we announce the appointment of the New Howe Elementary School Principal, Mrs. Brianne Berry! Mrs. Berry has been in the District for seven years. She also grew up in Beach Park and attended our Beach Park Schools growing up. She is home grown human capital and we are thrilled she will be joining the administrative team in Beach Park School District #3.
Mrs. Berry attended undergrad at Bradley University. She graduated with a Bachelor of Science in Elementary and Special Education degree with a concentration in Spanish. Later, she went back to school for a Master in Educational Leadership with a Principal endorsement at Northeastern Illinois University. Mrs. Berry spent her first five years of teaching at Oak Crest Elementary School in a second and third grade special education classroom. The past two years, she has served as the District Case Manager in the Department of Student Services.
Mrs. Berry's enthusiasm for children and their development underscores her strong belief in meeting the needs of all learners. Her dedicated leadership has resulted in expanding community partnerships, building positive relationships, and increasing family engagement. Mrs. Berry believes in advocating for all students. She will continue to advocate for all the families at Howe Elementary School personally and professionally.
Brianne has been married to Sean Berry since May 2021. They live in Antioch, IL with their 10 month old son, Lennox, and their dog Benson.
Mrs. Berry will be a great addition to the administrative team in Beach Park and will be able to collaboratively work with Howe Elementary School on achieving their school improvement goals. We welcome Mrs. Berry to the Beach Park Administrative Team and look forward to her leadership at Howe Elementary School for the 2022-2023 school year!
Respectfully,
Dr. Denise A. Wilcox, Interim Superintendent of Beach Park School District #3