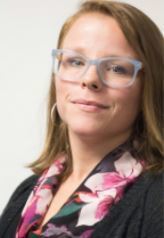 At the March 14, 2022 Board of Education meeting, Ms. Stephanie Meek was approved to be the new principal of Beach Park Middle School (BPMS) beginning July 1, 2022.
Stephanie Meek began her educational career in Dallas Independent School District in 2009, as a high school special education teacher. While in her second year, she elected to pursue her Master's in Educational Leadership from Southern Methodist University. Over the next several years, Ms. Meek began to develop her leadership skills in multiple ways. She committed herself to instructional coaching, curriculum development, and social emotional learning needs of all students. For the last six years, she has worked as a grade level administrator for the seventh and eighth grade students at Big Hollow Middle School in Ingleside, IL where she has developed the Multi-Tiered Systems of Support for Behavior with a district-wide impact.
Ms. Meek's educational philosophy is centered on two grounding principles: integrity and equity. She has committed herself to developing systems that address the whole child, authentically, and partnering with all stakeholders to create an environment where every student can achieve. Her students are accustomed to hearing her remind them how loved they are, and staff are often affirmed in their work. Her commitment to excellence will be an asset to BPMS.
A message from Ms. Meek:
Dear Beach Park Middle School Students, Families, and Community,

It is my distinct pleasure to have accepted the position as your Educational Leader. I am ecstatic to take on this new position as your principal. Before the beginning of my "Listening Tour," scheduled to begin this summer, I wanted to take a moment to introduce myself. Change is hard; having a new principal at Beach Park Middle School is a new and exciting challenge for all of us.
I have been an educator for 13 years. I have served students and families in Dallas, TX and Ingleside, IL. My primary focus always has been, and always will be, the students we serve above all else. I believe firmly, that with all of our arms wrapped around our students, we have the ability to create spaces where they feel safe, welcomed, and affirmed. With an environment such as this, achievement will come. I have centered my career always on two guiding principles: integrity and equity. In spaces where I choose to be, we will tell the truth, we will do our best, and we will behave in ways that honor the person we are becoming.
My main goal will be to begin by taking time to hear all members of our community, including our students, in order to understand who we are all trying to become. On that information, as well as our quantitative data, we will develop our plans together as we move forward. This is our community, and every voice is necessary in developing spaces where students feel safe and confident as they grow and learn.
Over the next several weeks, you will begin receiving correspondence in which I will share opportunities for students, families, and staff members to begin sharing their experiences, goals, and hopes for Beach Park Middle School. Together, we will make great things happen!

Respectfully,
Ms. Stephanie Meek